Home >
News >
2023 >
March >
Step into the NHS: Popular careers event to shine light on local NHS roles
Step into the NHS: Popular careers event to shine light on local NHS roles
Posted Wednesday, March 29, 2023 3:18 PM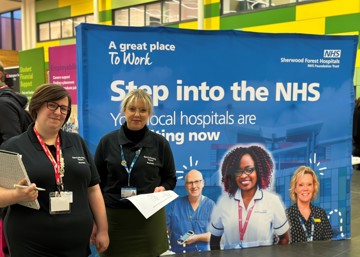 A NHS recruitment event that attracted almost 700 people wanting to start their NHS career is to return in April, as local hospitals combine with West Nottinghamshire College and Nottingham Trent University to showcase the host of non-clinical roles available in their local NHS.
Sherwood Forest Hospitals NHS Foundation Trust, in partnership with West Nottinghamshire College and Nottingham Trent University, is holding an event to showcase non-clinical careers available across its King's Mill, Newark and Mansfield Community Hospital sites.
The 'Step into the NHS' event at West Nottinghamshire College's Derby Road campus in Mansfield (NG18 5BH) will take place on Tuesday 25 April from 5.30pm to 7.30pm.
While there are more than 350 different roles in the NHS, many people's first thoughts are of Doctors, Nurses, Midwives, Paramedics and other frontline roles. In fact, non-clinical roles range from Clinical Coders and Finance Officers to Facilities workers, Admin support, Procurement and Human Resources.
Departments across Sherwood Forest Hospitals will be there not only to showcase their current vacancies, but to chat informally with potential recruits and answer any questions. Attendees can also discuss apprenticeship opportunities and talk to college and university staff about courses, funding and support.
This is the second Step into the NHS careers showcase following January's successful event, which attracted more than 650 people.
Rob Simcox, Director of People at Sherwood Forest Hospitals who oversees the Trust's recruitment efforts, said: "We know it takes a whole family to run our hospitals and we are proud of the way that our colleagues work together brilliantly across their clinical and non-clinical roles to make great things happen across our hospitals.
"No matter what your background or level of qualification, this event aims to showcase the wide range of opportunities that exist locally for further study and meaningful employment.
"There really is something for everyone within the NHS, with so many exciting careers opportunities across a number of non-clinical roles. Don't forget to bring your CV and dress to impress as some jobs will be interviewing on the night."
Assistant Principal for Health, Education and Service Industries, Nikki Slack, said: "Following the success of the last NHS careers event, we're really looking forward to welcoming our local communities back to explore these fabulous non-clinical opportunities for employment.
"Along with our NHS and university colleagues, we'll be able to show potential study routes into these varied roles through both the college and NTU. I think this event will really open people's eyes to some of the hidden roles within a hospital setting."
Sherwood Forest Hospitals has recently been confirmed as the best NHS Acute Trust in the Midlands to work for as voted by staff for the fifth year running, as well as for patients receiving the standard of care staff would want for friends and family, and for staff morale and engagement, according to the 2022 NHS National Staff Survey results.  
To register your interest in attending, please visit: Step into the NHS - Non-clinical Careers Showcase Registration, Tue 25 Apr 2023 at 17:30 | Eventbrite.
For all job vacancies, visit Sherwood Forest Hospitals (sfh-tr.nhs.uk).