Home >
News >
2023 >
May >
Former Care home-turned-hospital ward finds new home at Mansfield Community Hospital
Former Care home-turned-hospital ward finds new home at Mansfield Community Hospital
Posted Monday, May 15, 2023 10:30 AM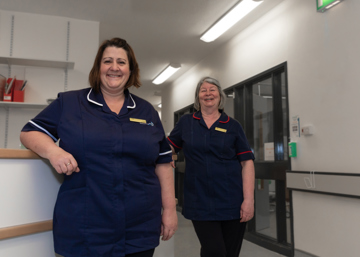 The former Mansfield Woodhouse care home-turned-hospital ward has been so successful in providing a solution to patient discharge pressures, it has been decided to retain the facility and transfer to a permanent home at Mansfield Community Hospital as a more cost-effective use of resources.
Sherwood Forest Hospitals NHS Foundation Trust opened the Sherwood Community Unit in May 2022 to provide transitional care for patients who had received treatment and medical attention in the Trust's King's Mill, Mansfield Community and Newark Hospitals but who were ready to be discharged once their care packages with local care homes and community teams had been arranged. 
One year on, the Unit has cared for nearly 800 patients and has played a vital part in freeing-up hospital beds for those who need them most.
The Unit, which won an award at the Trust's annual Excellence Awards in October in recognition of its hard-working team going above and beyond, is a great example of how thinking differently can ensure that patients receive the best possible healthcare in the right place at the right time.
Phil Bolton, Chief Nurse at the Trust, said: "The Sherwood Community Unit has had a positive impact in alleviating winter pressures and keeping essential NHS services running and I am so grateful to the team of staff, volunteers and community workers who made this possible."
"By relocating the Unit into Mansfield Community Hospital, we will be able to transfer patients even more easily and efficiently while retaining the same innovative approach to continuing to care for our patients in the best possible way."
Clare Haywood, Ward Leader at the Unit since its inception, will stay with the Unit. The Unit will now be known as the Chatsworth Centre in its new home at the modern Mansfield Community Hospital.
Ros Roddy, Matron at Mansfield Community Hospital, said: "We welcome the Unit to Mansfield Community Hospital and look forward to continuing to help patients and their families as they prepare to return to the place they call home. We know that this is the very best possible place for people to continue their recovery."