Our COVID-19 guidance has changed
Posted Wednesday, May 10, 2023 9:52 AM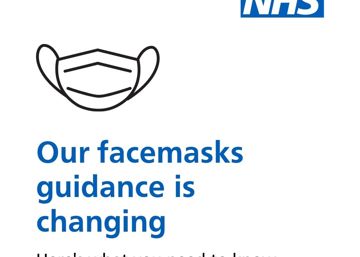 From Tuesday 9 May 2023 at Sherwood Forest Hospitals:
We have stepped down mask-wearing in most clinical areas of King's Mill, Newark and Mansfield Community hospitals
We have removed the need to wear a mask in most clinical areas, with patients, staff and visitors only required to continue to wear a mask in clinical areas where we are caring for our most vulnerable patients. Clinical areas where masks will continue to be worn include our Critical Care Unit, NICU and other areas with high volumes of immunosuppressed patients. Those areas will have our familiar red 'You are in a high-risk area' posters displayed.
We have changed patient testing requirements, including removing the need to test asymptomatic inpatients  

We will only test inpatients and elective patients who are displaying symptoms of COVID or patients who are immunosuppressed. All patients who are being transferred from our hospitals to another care provider – such as a care home or hospice – will also continue to be tested. Other NHS providers may also request that our patients are tested before they are transferred to them. 
We have reduced the time infected patients need to isolate
The requirement to isolate an infected patient is being reduced to a minimum of five days, with isolation to stop at a maximum of 10 days following a symptom review.
The latest changes bring Sherwood Forest Hospitals in line with national guidance and NHS providers working across the county.
COVID has not gone away. Rates remain under constant review, and we will adapt our approach as needed. We will continue to provide masks for anyone that wishes to wear one.
If you would prefer hospital staff to wear a face mask while in close contact, please ask.
We remind everyone to respect the wishes of those who choose to wear a face mask anywhere in our hospitals – whatever the reason.
Thank you for your continued support.