Patients don't miss out on Coronation celebrations
Posted Saturday, May 6, 2023 9:53 AM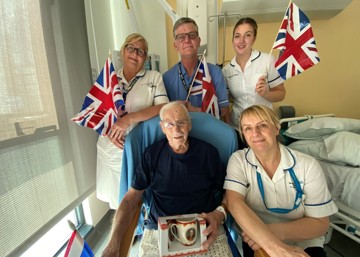 A patient who has lived during the reign of five British Monarchs is pictured receiving a commemorative mug to mark the Coronation of His Majesty The King.
Jack, who is the oldest current inpatient at Sherwood Forest Hospitals, is due to celebrate his 103rd birthday soon.
Jack was presented with a mug by Staff Nurse Dean Minett and colleagues on Ward 41 at King's Mill Hospital.
The League of Friends (Mansfield and Sutton) and The Friends of Newark Hospital very kindly funded mugs for inpatients along with teddies for Maternity and Children's services – a huge thanks to all involved for ensuring our patients had the opportunity to mark this historic occasion.