Welcome to our internationally-educated nurses
Posted Friday, May 12, 2023 10:38 AM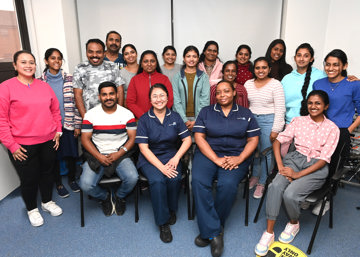 On Nurses' Day, which is celebrated worldwide on 12 May, we want to recognise the huge and vital contribution that internationally-educated nurses make to Sherwood Forest Hospitals. 
We've recently welcomed our latest cohort of overseas nurses and Operating Department Practitioners (ODPs) to the Trust. A total of 17 nurses and two ODPs, who arrived in March 2023 from India and the Philippines, will be stationed across the Trust at our Newark, Mansfield Community and King's Mill hospital sites. 
Asha Thomas, who joined Sherwood Forest Hospitals from India, is working on Ward 33 at King's Mill. 
She said: "I'm finding everything here great so far. I've got a really nice ward, I feel really supported by my manager and there are plenty of opportunities for me to grow. It's quite different here to where I'm from in India, but everyone has been really accommodating and supportive and there are lots of different groups of people I can go to for help if I need it." 
The Trust has been recruiting internationally for over four years and currently employs more than 200 international nurses, as well as two midwives and two ODPs.
Yvonne Simpson, Associate Director of Nursing, said: "International Registered Nurses are experienced nurses with vast experience in specialised areas, who can add diversity, knowledge and experience to the wards and departments at the Trust. We are very pleased to have them with us and are sure you will join us in giving them a warm welcome to the Trust and to the local area."
For our latest nursing and midwifery vacancies, please visit the recruitment section of our website.