Home >
News >
2023 >
November >
Buzz of excitement as first patients benefit from Newark Hospital's new theatre
Buzz of excitement as first patients benefit from Newark Hospital's new theatre
Posted Monday, November 13, 2023 4:05 PM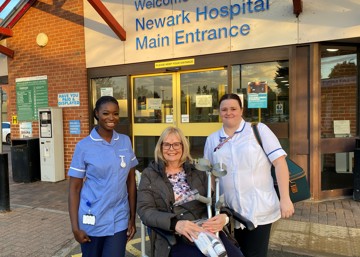 Patients have celebrated being among the first through the door of Newark Hospital's new, state-of-the-art operating theatre.
Five patients who received total hip replacements on the theatre's first day of operations on Monday 6 November are all continuing their recovery at home after being discharged the following afternoon (Tuesday 7 November).
The addition of a third operating theatre at Newark is an important part of the Trust's drive to increase elective activity, meaning patients across Newark and Sherwood, Mansfield, Ashfield and further afield, including parts of Lincolnshire, can benefit from shorter waiting times for a range of operations.
Christine Clark, 78, of Ollerton, said: "My neighbours had seen the new theatre on TV and we were all thrilled to bits to realise my operation would be one of the first.
"When I was wheeled into theatre it looked absolutely amazing – very bright and you could smell the newness.
"I'd encourage other patients to have their treatment at Newark Hospital – make sure you ask for Newark. The staff look after you really well. They are so cheerful, which is what you need when you're having an operation.
"I love gardening and can't wait to get back to looking after my colourful borders and pots."
Phillip Wigley, 74, a model aeroplane enthusiast, from Southwell, said: "When this appointment came up, I grabbed it and I'm 100 per cent glad that I did. It's like private healthcare but it's free! I can't see how private hospital treatment could be any better than this.
"If you're offered your surgery at Newark, take it. Everybody is amazing - from the cleaners to the theatre team, the nurses and physiotherapist.
"This new operating theatre is exactly what is needed to get waiting lists down. I'm one of the lucky ones and hopefully lots more people will benefit.
"I can't wait to get back to flying planes off mountains in Wales."
Sheila Burscough, of Sutton-in-Ashfield, said: "I feel very honoured and privileged to be one of the first patients to have surgery in the new theatre. I'm very grateful to the entire team."
Sheila, who is a nurse, said: "I've been well looked after, and I've observed everyone else being well looked after too.
"I love King's Mill Hospital - it's the perfect place to go if you need emergency care or a procedure that is not available at Newark. But if you need planned elective treatment then I'd urge you to consider having it at Newark Hospital. I would choose to come here in the future - it has exceeded all my expectations."
Sheila, is looking forward to getting back to doing activities such as pilates, paddleboarding, cycling, hiking and keeping up with her grandchildren.
Anne Arrowsmith, 58, who lives close to the Derbyshire and Nottinghamshire border, said: "It's quite exciting, there was a definite buzz in the theatre. I'm part of history, which is a nice feeling.
"King's Mill would have been much closer for me and so I was hesitant to come to Newark at first, but I'm pleased I did. If I hadn't taken this slot, I'd have had to wait until next year for my operation."
Anne, who is a secondary school librarian, said: "I'd tell people in a similar situation who are offered Newark, to go for it. There's nothing negative I could say. They look after you extremely well, they've managed my pain and preserved my dignity and the staff have made having major surgery an enjoyable experience!
"Newark Hospital may be small but because of that it's very friendly and even though they are always busy they make time for you and nothing is rushed."
"One of the benefits of having this operation at Newark Hospital, is that I've shared this experience with three lovely ladies on my ward. We've been able to support and reassure each other. The camaraderie has been wonderful."
Sue Ball, 60, of Sutton-in-Ashfield, said: "I was dreading it. Newark seemed like too far away from home but as soon as I got here I made friends. The staff go above and beyond – nothing is too much trouble. Hospitals aren't the nicest of places but it's been an excellent experience.
"This theatre is going to be here for years and years so it's nice to think that I was part of the first day.
"If you've got a choice, I'd choose Newark."
The project, known as the Newark Elective Hub, received £5.6million from NHS England's Targeted Investment Fund (TIF), with the aim of delivering up to 2,600 more operations and procedures each year.  It has created around 30 new medical, nursing and clinical support roles. 
David Ainsworth, Director of Strategy and Partnerships at Sherwood Forest Hospitals, said: "This new theatre will bring much-needed additional theatre capacity, which means we can see more patients in a year, reducing waiting times for patients across mid-Nottinghamshire and beyond. The state-of-the-art facilities will improve overall patient experience and staff morale, and further demonstrates our commitment to the future of Newark Hospital.
"Ask your GP or hospital team if you can have your operation or procedure at Newark. Waiting times tend to be shorter so you can get back to living a fuller life faster – just like Christine, Phillip, Sheila, Anne, Sue and the other patients who have benefited so far."
The multi-million-pound theatre will focus on delivering more orthopaedic activity, mainly hip, knee, hand and wrist procedures – including total hip and knee replacements. Additional slots for general surgery, breast surgery, gynaecology and ophthalmology will also be available across the Newark theatre complex. 
The Newark site is separated from the Trust's emergency pathway that is delivered at King's Mill Hospital, which allows surgical teams at Newark Hospital to focus on planned procedures. This means the site is less affected by cancellations that can occur, for example, due to winter pressures, industrial action or patients who need emergency surgery.