Sherwood Forest Hospitals gains 'Veteran Aware' accreditation
Posted Tuesday, November 7, 2023 1:32 PM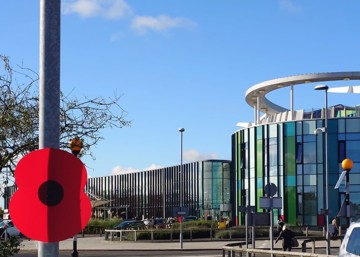 Sherwood Forest Hospitals Trust has been accredited to the highest standard available from the Veterans Covenant Healthcare Alliance, in the support they provide for armed forces serving personnel and veterans. 
Over the last twelve months Sherwood Forest Hospitals have worked to strengthen the support provided to the area's armed forces community by working towards achieving a gold standard of the independently assessed Veterans Covenant Healthcare Alliance accreditation.
The NHS Trust signed the Armed Forces Covenant in 2016 making a commitment that ensures that those who serve or have served in the armed forces and their families are treated fairly whenever they need the Trust's services. This commitment also covers all members of staff and volunteers across the Trust. 
The VCHA's aim is to make sure that patients from the Armed Forces Community, including families, are paid due regard, and are not disadvantaged in terms of access to and outcomes of healthcare, as a result of their military life in line with the principles of the Armed Forces Covenant. 
The Armed Forces Covenant is a promise by the nation ensuring that those who serve, or who have served, in the armed forces, and their families, are treated fairly. It is understood that more than 15,000 people are from the armed forces community in the immediate Ashfield, Mansfield, Newark area. 
David Selwyn, the Medical Director for Sherwood Forest Hospitals who oversees the Trust's Veteran Awareness group, said: "Sherwood Forest Hospitals has a proud history of working with and supporting our armed forces. I would like to thank all those connected to our armed forces for all that they have done and continue to do for our country." 
"Achieving the gold standard accreditation shows the strength of our commitment to supporting our armed forces veterans and serving personnel across Nottinghamshire." 
Trust Intensive Care Consultant Kelvin Wright, who was previously the commanding officer in the 306 Hospital Regiment, said: "Sherwood Forest Hospitals support for serving armed forces personnel was one of the main reasons I came here to work. The support and flexibility they provided allowed me to balance my work here at Sherwood and within the armed forces as a reservist."