Amazon Breast Cancer Support Group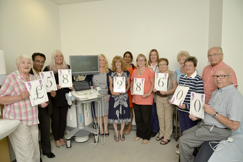 One of our most valued fund-raisers is the Amazon Breast Cancer Support Group. They have bought a large number of items for our breast care patients to make their journey more comfortable. They also provide incredible support for new breast cancer patients.   
About the Amazon Group
The Amazon Breast Cancer Support Group was founded by 12 King's Mill Breast Cancer patients who felt extra help that went beyond the purely medical was needed.
Whether you are a new patient or have been discharged from the hospital you all have a place in the Amazon Group.
New patients come for support. However the best support for a breast cancer patient is to meet and talk with someone who has beaten the disease. If you feel you can help, please get in touch.
What can I expect from going to an Amazon meeting?
Our meetings are extremely friendly and full of laughs. After a couple of hours you leave uplifted to face the world.
People are only too willing to exchange experiences.
One in 11 women contract breast cancer in the United Kingdom, so don't feel you are alone. Look down your street and count the women and you soon realise the enormity of the problem. And don't forget, men contract breast cancer as well as women.
If you are a new patient, a buddy can come and sit with you while you are having treatment. There are also the necessities in life to learn about. Where do you buy a swimming costume? Where is the best place to buy a bra that has the right cut? Where can you get a wig?. Everyone has similar needs. Someone in the group will have experienced your problems.
Come and talk, the group is there to help you. There are no charges as cash is generated from gifts and fund-raising events.
For further information please visit the Amazon Breast Support Group website.