Home >
News >
2020 >
Putting a smile on Sherwood Forest Hospital patients faces this festive season
Putting a smile on Sherwood Forest Hospital patients faces this festive season
Posted Wednesday, December 23, 2020 9:38 AM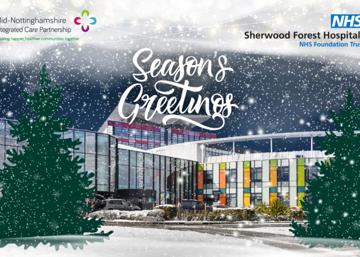 We know this year has been like no other and that it will be especially hard for those who are in hospital over the festive period this year, which is why our charity team and chaplaincy at Sherwood Forest Hospitals are working together with our community to ensure that our patients have an extra special Christmas this year.
Thanks to the generosity of our local community, Sherwood Forest Hospitals League of Friends has been able to provide presents for all patients in hospital on Christmas Day.  
Our chaplaincy service will also be providing some cheer to patients by singing carols at outdoor locations around the King's Mill Hospital site on Christmas Eve at 7pm and at Newark Hospital the Salvation Army band will be playing outside the hospital. 
On Christmas Day morning our Chaplains will also be visiting the wards and work areas supporting colleagues and patients at a safe distance whilst wearing face masks and appropriate personal protective equipment.
On Christmas Day and Boxing Day we will be relaxing our visiting slightly and allowing two visitors for each patient for a two hour period per day. This will be organised by the Ward Leader of each ward and visitors will need to arrange an agreed time slot so that the amount of visitors at any one time can be managed on each ward.
For our younger patients on our paediatric ward, both parents will be allowed to visit on Christmas Day and Boxing Day.
Visiting for our Emergency Department and Emergency Assessment Unit will remain the same – please come alone unless you require a carer or are under the age of 16.
Whilst we still have some visiting restrictions in place to keep everyone safe and to reduce the spread of Covid-19, we are encouraging people to take advantage of virtual visiting options. This includes things such as phone calls, FaceTime and video calls to each other and getting support from our patient liaison team to keep in touch with someone who is in hospital.
Our Sherwood Forest Hospital Millside Radio team will be presenting a special Christmas Eve, request show from 6pm for our patients and colleagues tuning in. Just submit your festive music requests or dedications on the day on 01623 737 737 or via email studio@millsideradio.co.uk.                                               
Alongside this, patients will also have free access to the Hospedia television service up until the end of December, whilst also being able to access the free patient Wi-fi to make video calls and keep in touch with loved ones.
Children from our local schools have also sent in snow globes and pictures which we have used to help brighten up the wards throughout the hospital.
Chief Nurse, at Sherwood Forest Hospitals, Julie Hogg, said: "We know it's going to be a difficult time for our patients who are in hospital over the festive season, so we are doing all we can to make it as festive as possible for them.
"It's important to stay connected with family and friends during this time, so we are really encouraging people to take advantage of technology to stay in touch virtually as a way of keeping in touch with your loved ones and friends who are in hospital.
"We know this year has been really difficult for us all and we would like to say thank you to the public for continuing to follow our visiting restrictions and social distancing measures to help keep everyone safe.
"We know this year will not be the 'normal' Christmas for many, but we hope that the support we provide to our patients and their families will go some way to making their stay a little brighter this year. If you have any questions around visiting at Christmas please get in touch with the ward that your family member or friend is on to discuss this. Please do not turn up to the hospital on Christmas Day without prior arrangements, as we do not want you to have a wasted journey. Thank you for your understanding."
To find out more about our visiting restrictions please visit our website: https://www.sfh-tr.nhs.uk/for-patients-visitors/visitors/ward-visiting-times/