Home >
News >
2020 >
May 2020 >
Special DAISY Award scheme launched at Sherwood Forest Hospitals this International Nurses Day
Special DAISY Award scheme launched at Sherwood Forest Hospitals this International Nurses Day
Posted Tuesday, May 12, 2020 8:39 AM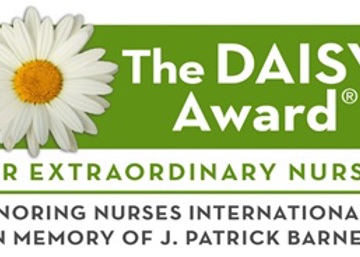 Patients, staff, volunteers and visitors are being asked to nominate nurses and midwives at Sherwood Forest Hospitals so that they can be honored with a very special DAISY Award For Extraordinary Nurses and Midwives.
The Trust is launching the awards scheme on International Nurses day (12 May 2020), working in partnership with the DAISY Foundation program to recognise the amazing efforts nurses and midwives perform every day.
The not-for-profit DAISY Foundation is based in Glen Ellen, California and was established by family members in memory of J. Patrick Barnes. Patrick died at the age of 33 in late 1999 from complications of Idiopathic Thrombocytopenic Purpura (ITP), a little known but not uncommon auto-immune disease. The care Patrick and his family received from nurses while he was ill inspired this unique means of thanking nurses for making a profound difference in the lives of their patients and patient families.
The DAISY Award has been adopted by healthcare facilities around the world to celebrate nurses for their extraordinary care and compassion. The DAISY Award is for nurses and nurse-led teams of two or more who come together to solve a specific situation by going above and beyond. Nursing and midwifery teams may be nominated by patients, families, and colleagues, and they are chosen by a committee of nurses at Sherwood Forest Hospitals to receive The DAISY Award. The DAISY Award is presented throughout the year at a surprise presentation on the ward or area that the nurses and midwives work in. Each member of the Nursing and/or Midwifery Team receives a certificate commending them for being an "Extraordinary Nurse or Midwife."
Bonnie Barnes, FAAN, President and Co-Founder of The DAISY Foundation said: "When Patrick was critically ill, our family experienced first-hand the remarkable skill and care nurses provide patients every day and night. Yet these unsung heroes are seldom recognized for the super-human work they do. The kind of work the nurses at Sherwood Forest Hospitals are called on to do every day epitomises the purpose of The DAISY Award."
Sherwood Forest Hospitals Chief Nurse, Julie Hogg said: "We are proud to be among the healthcare organisations participating internationally in the DAISY Award program.  Nurses and midwives go above and beyond every day. It's important that our nurses and midwives know their work is highly valued, and The DAISY Foundation provides a way for us to recognise their work and show our appreciation."  
Patients, staff, volunteers and visitors can nominate a nurse or midwife for a DAISY Award by visiting the DAISY Award webpage here or by asking a member of staff for a DAISY form.