Home >
News >
2020 >
First DAISY Awards given out at Sherwood Forest Hospitals to celebrate the amazing work of nurses and midwives
First DAISY Awards given out at Sherwood Forest Hospitals to celebrate the amazing work of nurses and midwives
Posted Wednesday, September 16, 2020 2:12 PM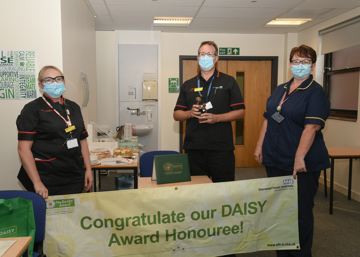 The first Nurses and Midwives at Sherwood Forest Hospitals to be awarded for a very special DAISY Award have been announced this week.
The Trust works in partnership with the DAISY Foundation program to recognise the amazing efforts nurses and midwives perform every day. Each month, patients, staff, visitors and volunteers get to nominate nurses and midwives for the award, which recognises their amazing care and help.
The DAISY Award has been adopted by healthcare facilities around the world to celebrate nurses for their extraordinary care and compassion. The DAISY Award is for nurses and nurse-led teams of two or more who come together to solve a specific situation by going above and beyond. Nursing and midwifery teams may be nominated by patients, families, and colleagues, and they are chosen by a committee of nurses at Sherwood Forest Hospitals to receive The DAISY Award. The DAISY Award is presented throughout the year at a surprise presentation on the ward or area that the nurses and midwives work in. Each member of the Nursing and/or Midwifery Team receives a certificate commending them for being an "Extraordinary Nurse or Midwife."
DAISY Award honourees' for this month were; Deputy Chief Nurse, Phil Bolton, Trauma Co-Ordinator and Fracture Liaison Nurse, Rachael Parker and Midwife Stevie Merryweather.
Phil was nominated for his strong influential leadership and his calmness whilst doing so, his nomination read: "During the Covid-19 pandemic period, Phil has led the clinical response operationally demonstrating calmness, compassion and courage. This approach has resulted in rapid innovation to our services led by front line staff and influenced by our patients. His professional approach has enabled us to care for our most vulnerable patients whilst protecting and supporting our teams."
Rachael was nominated for being able to quickly adapt to new environments whilst having a positive impact on both patients and staff. Her nomination read: "Rachael is absolutely incredible! Rachael supported ITU during Covid -19 and is usually the trauma coordinator. Rachael adapted very quickly to her new environment. The positive impact she had on her patients was significant despite the ongoing stress of working in a completely different way. Rachael is an absolute god-send to her patients and is one of the most caring nurses I have ever met. Rachael is always 100% committed to giving the best care for patients and their families."
Stevie was nominated for keeping one of our patient's calm when she needed it the most during her 36 hour labour. Stevie's nomination read: "Stevie is an absolute credit to the team and I know I would have struggled to get through my birth without her. I was in labour for 36 hours and she was the one who kept me sane and calm. I was terrified because of the horrific pain I was in.
"I have never known such a lovely and professional women, she made me feel so comfortable when I was at my most vulnerable and went above and beyond the call of duty for both me, my baby, my mum and my partner."
Chief Nurse, Julie Hogg said: "We are so proud of our staff and the DAISY Awards are such a brilliant way of recognising outstanding care and dedication from our nursing and midwifery teams. To be among the healthcare organisations participating internationally in the DAISY Award program is fantastic.  It's important that our nurses and midwives know their work is highly valued, and the DAISY Foundation provides a way for us to recognise their work and show our appreciation."  
The awards for October are now open and you can nominate your chosen nurse, nursing teams, midwife or midwifery teams here - https://www.sfh-tr.nhs.uk/work-for-us/staff-recognition/daisy-awards-2020/