Home >
News >
2021 >
Husband praises 'brilliant' new Carer's Passport for transforming the care of his wife at King's Mill Hospital
Husband praises 'brilliant' new Carer's Passport for transforming the care of his wife at King's Mill Hospital
Posted Tuesday, June 8, 2021 11:11 AM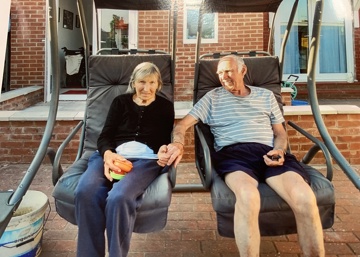 Carers will be more involved in patient care at Sherwood Forest Hospitals thanks to a new Carer's Passport that the organisation is launching during National Carers Week (7 – 13 June).
The Carer's Passport has been funded by King's Mill Hospital Volunteers and aims to involve carers, who care for the patient outside of a hospital setting on a daily basis, in the patients' care as soon as they are admitted to hospital.
Corporate Matron for Patients and Carers, Debbie King explains: "We were finding that carers who are often family members caring for these patients day in day out know far more about the patient and their needs than we ever could, and could therefore really help with their care during the patient's hospital stay. Whether that is just being there to reassure them or advising on how the patient likes certain things done or what they like to listen to or watch on the television. Such insights are so valuable to patient care and we thought this was being missed by not involving the patient's carer sooner in our patient journey."
The Carer's Passport has been trialled on a number of wards across King's Mill Hospital and has already had hugely positive impacts on patient care and their wellbeing.
One patient and carer who it impacted significantly on was Ann Bennett and her husband Ray. Ann has dementia and Ray is Ann's carer and was having their house adapted to suit Ann's needs, which meant she went into a nursing home for some respite care whilst the work was being carried out.  During this time Ann unfortunately had a fall and broke her hip, which resulted in a two week hospital stay on King's Mill Hospital's Trauma and Orthopaedic Ward, Ward 12, which was very unsettling for her.  It was noted that during Ray's visits, Ann was much more settled and in a calmer state, but when he left she became agitated again and unsettled.
Ann was discharged, but unfortunately had a second and then third fall, which resulted in two further hospital admissions. During her third admission, it was thought that it would be best to use the Carer's Passport for the couple, to help with Ann's care and keep her calm during her stay. The passport allows the patient's carer to come in to the ward, without any time restrictions, and provide as much or as little care as they want to. So they can be involved with meal times, they can be involved with personal care, or even have a meal with their loved one, as they would at home, which encourages patients to eat and drink.
Ward 12 Sister, Lauren Brown, explains what a difference it made to Ray and Ann: "As soon as Ray walked onto the ward he broke down in tears when he saw Ann, because sadly he hadn't seen her for more than two months, due to lockdown in her nursing home. It made such a difference to both Ray and Ann. With Ray being around it calmed Ann down a lot and stopped her wandering around the ward too much, which helped improve her safety whilst on the ward. We were also able to get insights into what she liked when she was younger, for example her favourite songs, which we used to help calm her and incorporated into her care using something called RITA (reminiscence, interactive, therapeutic, activities), which we use to help patients who have dementia. With Ray being around we were also able to get an insight into what Ann was like at home, what she liked, what made her comfortable, and we were able to include this in her care plan, which was really invaluable information and made a real difference to her care.
"The Carers Passport has changed the way we care for our patients in a big way, it's allowed us to communicate and work together with a patient's loved ones and the wider community, in a way that has been particularly difficult during the pandemic, as sadly, we have not been able to have visitors, so we have not been able to get to know families or our patients as well as we would have liked to, as often the family will provide invaluable information about a patient. So the Carers Passport has  really given us a chance to be able to connect with our patients and their families in that way again and allow us to care for them in a better way."
Ray added: "It was brilliant on the ward, I could come in every day and sit with Ann and help her with her dinner and tea. I used to get to the ward for around 9:30am and I was able to stay until 5pm, which was invaluable to us. I could spend time with her, walk with her as she loves walking. Every day I fetched her an apple, because she will not clean her teeth, but if she has an apple that helps keep her teeth clean. I mean, the Carer's Passport, really is the best thing since sliced bread!"
Lauren added: "As a ward it's allowed us to aspire and improve the care, to work in a different way and to look at everything as a whole, not only has it improved things for our patients, but it has improved things for our colleagues. Caring for patients like Ann on enhanced observations can be really difficult, as all we want to do is keep them safe and this can be mentally draining, but to be able to have a patient there who is so much calmer and so much more relaxed because they have a family member there is exactly what we want, for every patient we want to be able to keep them safe and provide them with that outstanding level of care that they deserve and I feel the Carers Passport really goes that extra mile and allows us to do this, it has made such a difference and it is going to continue making a difference."
The Carers Passport is being launched across Sherwood Forest Hospitals Trust during National Carers Week (7 – 13 June) more information about the passport can be found here.      
A video of Ray and some of the hospital team who cared for Ann can be found here.