Home >
News >
2022 >
Sherwood Forest Hospitals prepares for Annual General Meeting
Sherwood Forest Hospitals prepares for Annual General Meeting
Posted Wednesday, September 21, 2022 11:54 AM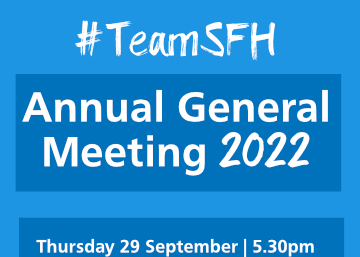 The Annual General Meeting (AGM) and annual Members Meeting of Sherwood Forest Hospitals NHS Foundation Trust will be held later this month. 
The meeting, which will be held virtually between 5:30pm and 7pm on Thursday 29 September, is an opportunity for the public to learn how the organisation performed in the 2021/22 financial year.
The meeting will also share plans for how the Trust is preparing to meet operational demands for the winter months ahead.
This year's Annual General Meeting will be held virtually for the third successive year, due to the continued prevalence of Coronavirus in the Trust's hospitals, the local community and nationwide.
Claire Ward, the Chair of Sherwood Forest Hospitals, said: "Despite demand for our services remaining exceptionally high over the past few years, there remains so much for us to be proud of as a Trust.
"Our AGM is a fantastic opportunity to be able to showcase just that with the community we are here to serve, as well as to share our future plans and share stories of how staff are continuing to work hard to essential services running for patients this winter."
The AGM is open to all members of the public and is an opportunity for the Trust to reflect upon its activities, challenges and achievements over the past financial year.
There will be a presentation of the Annual Report and Accounts and the Trust will also outline its plans for the year ahead. Members of the public will also have the opportunity to put their questions to the Trust's Board of Directors.
Anyone wishing to tune-in to the Annual General Meeting can do so via a Microsoft Teams Live event here: https://bit.ly/sfhagm2022
Anyone wishing to submit a question to the Trust's Board of Directors in advance of the meeting can do so by emailing sfh-tr.communications@nhs.net before midnight on Tuesday 27 September.