Nurse Recruitment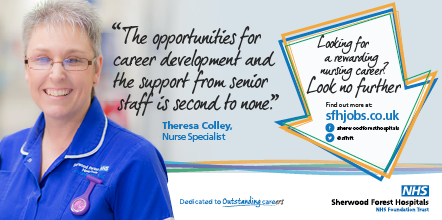 Would you like to work as a nurse and be part of an award-winning team at one of the happiest Trusts in the country?
At Sherwood Forest Hospitals (SFH) NHS Foundation Trust you get to be part of the team helping shape the changing structures of health and social care today.
In May 2020 we were awarded a Good rating by the CQC with our overall care rated as Outstanding and our King's Mill Hospital site rated as Outstanding. Our sepsis care, mortality rates, stroke services and maternity services compare very well nationally and our clinicians are regularly asked to speak nationally and internationally on our work. But don't take our word for it – 84% of our inpatients rated their overall experience as good and our staff satisfaction for the quality of care they provide is fourth best for acute Trusts across the country. Nine out of ten of our staff would recommend us as a place to receive care and eight out of ten as a place to work.
Sherwood Forest Hospitals has one of the most modern hospitals in the NHS and is surrounded by beautiful countryside that inspired DH Lawrence and Lord Byron. The surrounding area is also home to some of the best public and private schools in the country, with Michelin starred restaurants and award winning theatres and galleries on your doorstep.
In our 2019 staff satisfaction survey, we had the best overall engagement score in the East Midlands for acute (hospital) Trusts, with staff rating us as the best acute Trust in the Midlands for both the quality of care we provide, and as a place to work & receive treatment.
And that's not all. When you join SFH you also join a team passionate about improving care and treatment options for patients today and in the future. You could make a difference to people like Roger who's been part of our prostate cancer study for the last five years. You can see the massive difference research has made to him and his family here.
So if you are looking to join a team at a modern and innovative Trust which is easy to get to then let us be your next career move.
Useful links
SFH Nursing, Midwifery and Allied Health Strategy | 2022-2024
NHS Careers - Midwifery
Royal College of Midwives
NHS Careers - Nursing
Royal College of Nursing