Work Experience
We hope to slowly restart the work experience programme during Autumn 2021.  We are in the process of contacting placement areas to see if they have capacity to reschedule those work experience placements that were cancelled due to Covid-19. Each placement area has different capacity and not all areas can offer placements but for those areas that can reschedule placements we are contacting the applicants direct to arrange an alternative date.
Our first priority is to those applicants whose placements were cancelled due to Covid-19 and then we will process those applications which remain outstanding, if their chosen placement area can offer placements.
If you are applying for work experience for the first time please visit the CARE4Notts (Careers Academy Representing Everyone) website for future updates.   All work experience placements will be advertised at  Work Experience – CARE4Notts. 
Please note that all work experience applicants will be required to take a lateral flow test before and during their placement, wear a mask, social distance and wash their hands on a regular basis.
At Sherwood Forest Hospitals NHS Foundation Trust it is mandatory for all work experience applicants to be fully vaccinated against Covid-19 to protect themselves, patients and staff.
Due to the demand, placements are restricted to Nottinghamshire residents and to those who study full-time in Nottinghamshire.
For all general enquiries, please contact the Work Experience Co-ordinator:
Email: sfh-tr.nottsworkexperiencehub@nhs.net (Monday-Friday 9am-5pm)
Telephone: 01623 622515 ext 4423 (Thursday-Friday 9am-5pm)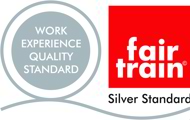 Career Opportunities
For further information on healthcare careers please visit the careers section.
Aspiring medics are required to develop an understanding of medicine when applying to medical school. Work experience is one way to gain insights into medicine, the Royal College of General Practitioners (RCGP) have created another - Observe GP provides a free, online interactive video platform providing insights into general practice. Available at www.rcgp.org.uk/observegp
Guidance on gaining relevant experience to study medicine in the time of Covid-19 is available at the Medical Schools Council.
Now you can use virtual reality AHP VR360 to experience a day in the life of an Allied Health Professional in areas such as podiatry, orthoptics, prosthetics & orthotics, therapeutic radiography and dietetics. For the full immersive experience we recommend that you use a virtual reality headset.