Cycling to Work
Welcome to the 'Cycle to Work' webpage for Sherwood Forest Hospitals.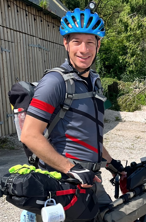 I am Dr Richard Hastings, Consultant in General Paediatrics and Cycle to Work Lead.

If you're reading this it is likely that you already cycle to work, or are considering it? Either way, you'll find some useful information here.
The Cycle to Work scheme is only at the King's Mill Hospital site at the moment, but we hope to have more information about other sites at Sherwood soon.
If you want to discuss any of the information here or if you'd like to help support  your colleagues to cycle to work, contact your C2W champions:
Claire Allison (claire.allison2@nhs.net)
Tom Adams (tom.adams2@nhs.net)
Richard Hastings (rhastings@nhs.net)
We are hoping to recruit local cycle to work champions within the Trust to support and advise SFH colleagues to cycle to work? If you would like to be a C2W Champion please contact one of the Champions listed above.