Healthcare Student Induction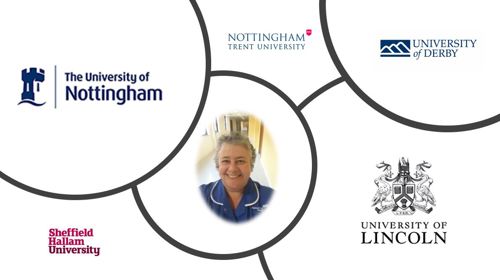 Who am I?
Hi my name is Nichola Fowkes and I am SFHFT Practice Learning Lead. You will meet me if you come to training and education for your swipe card, or you may meet me when I am out and about on the wards visiting both staff and students. I completed my nurse training at university of Nottingham and worked for the first 4 years of my career at NUH, before moving to SFHFT.
I am passionate about supporting students and became a mentor 22 years ago. For 21 of those years, I have been a PLT rep for my practice area(s). It is a role I enjoyed immensely and I have now moved on to the role of Practice Learning Lead to further my knowledge and to grow in a new direction when providing support to students.
I believe wholeheartedly in inter professional learning and am working on trying to introduce this within the Trust (alongside the lead for AHP's). While COVID has meant an end to the IPL sessions we used to run for many years (due to lack of space and social distancing) I am looking to revamp and reintroduce them to provide inter professional education, skills sessions, focus groups etc. watch this space……..
What do I do?
I am the Practice Learning Lead within the Trust. This means I liaise between staff in clinical practice and the Universities the students attend. It is a multifaceted role in which I provide support not just to students but also to clinical and University staff. I work over all 3 sites and can arrange to visit wherever the placement is in the Trust.
I also continue to work in my Practice Assessor (PA) role to students/staff that require extra support – I have recently been a PA to an external student in GP surgery and also PA to a student within the Trust.
I am responsible for allocating placements to the Universities we deal with (University of Lincoln, University of Derby, University of Nottingham, Nottingham Trent University and Sheffield Hallam University). Within the team I work in we also support the allocation of TNA placements.
I also deal with Return to Practice students and finding them placements and dealing with tariff stipends and supporting practice areas if required.
Also included within my role is allocating paramedic placements, ensuring they achieve broad depth of placement experience.
I also work closely with and am currently developing projects with our Trust midwives; placement allocation for midwives currently sits with the midwifery team at the Trust.
I attend meetings with Universities to ensure communication channels are kept open and that both sides know of relevant developments and adjustments within either education or practice. I have also driven change within the Trust to using the new NMC SSSA standards, by rolling out transition training for Trust staff (not only nurses and midwives, but also AHP's and ODP's), as well as delivering this training to external staff from other Trusts.
I have developed and deliver training to Trust staff to become Practice Supervisors (PS) and also Practice Assessors (PA), continuing to support to them in practice should they require it. I keep the Trust database up to date and current, confirming with the universities when asked about the currency of PS/Pas who are supporting their students in practice. I have developed and issue the 2 yearly e learning updates to PS/PA who require it to ensure that Trust staff remain fully current within their role.
I also sit on Fitness to Practice panels within Universities to appraise evidence of potential unsafe practice reported as a cause for concern in a students practice.
In collaboration with Universities I am involved with interviewing students applying for admission to complete nursing degrees, and it is interesting to see both the entry process and greet the students when they have been accepted onto the course and come into practice.
I am also available should you require someone to turn to for advice and support if you require it so please if you find yourself in a spot, and are not sure what to do please come and find me J, PETTS office, training and development, level 1, KMH. or email sfh-tr.practicelearning@nhs.net  
Looking forward to meeting you……..