Why we need your support
The Sherwood Forest Hospitals Charity exists to support our patients.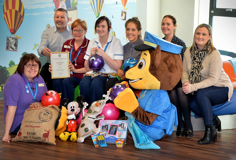 The funds raised and donated enable us to enhance and improve our patient care and facilities and to ensure we provide the best possible experience for the patients using our services.
To continue with this work, we rely on the generous support of individuals and companies.
Patient Welfare
Your donations fund environmental changes that enhance patient facilities enabling us to provide a welcoming and supporting atmosphere.
Equipment
Your donations purchase the latest state of the art medical equipment ensuring that our patients receive the best possible care and treatment.
Staff Training
Your donations support staff to attend a variety of courses ensuring that our teams are kept up to date with medical knowledge and skills to enable them to provide high quality care