Macmillan Cancer Information and Support Centre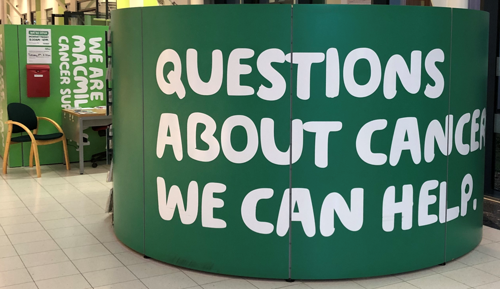 Who we are
In partnership with Macmillan Cancer Support, the Trust developed the Macmillan Information and Support Centre, also known as the Pod. The Centre is staffed by an experienced Cancer Information and Support Manager and Information and Support Assistant, along with a team of trained volunteers who can help you find the information you need. We are supported by a wonderful healthcare team which means if we don't know the answer, we probably know someone who does.
What we do
We offer a vast range of information covering topics such as cancer prevention, screening, signs and symptoms to look out for, cancer types, treatments, and living with and after cancer.
We are open to anybody who has been affected by cancer and can take the time to sit with you and make sense of what is happening, and offer a safe place for you to explore your feelings and voice your concerns. We can help you with the smaller things that really make a difference, and can help you identify any further support you need. We are also able to refer to other services within the hospital and beyond where appropriate, such as:
We can also signpost you to support groups in the local area if you would like to meet other people who are going through a similar thing. You can find a list of local support groups by clicking here.
We understand that cancer can have a big financial impact. If you have money worries as a result of your cancer diagnosis we also have our Macmillan Money and Work team who can help identify the appropriate benefits and financial help. Please contact us for more details.
How to contact us
You do not need a referral or appointment to use the service. We are open Monday - Friday 8:30am - 4pm (excluding bank holidays) and you are more than welcome to drop in during these times.
To call: 01623 622515 extension 6499
Or e-mail: sfh-tr.cancer.info@nhs.net 
Outside of our opening hours support can be accessed using the Macmillan Support Line, which is open 8am-8pm 7 days a week: 0800 808 00 00